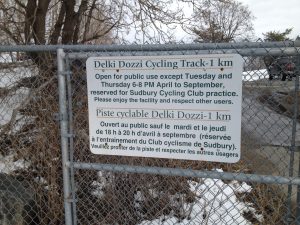 Road training takes place on Delki Dozzi Cycling Track, Tuesday and Thursday evenings, starting as early as April, and ending in September.
Road training routines are designed to help cyclists prepare for the surge-&-recover and sprinting demands of road racing.
Tuesday workouts generally involve maximum-intensity and sprint repeats of 90 seconds or less.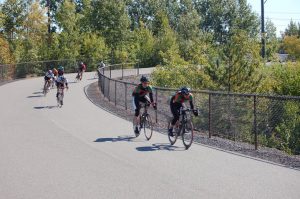 Thursdays usually consist of high-intensity repeats of 3 to 5 minutes.
Workouts are formatted in 4-week cycles, with intensity and duration rising from weeks 1 to 3, and recovery at lower intensity in week 4.
Workout routines are structured using heart rate-based intensity "zones". Individualized heart-rate zone values are provided on request, based on data collected when the rider completes a 5km test on Delki Dozzi Track, or indoors on a trainer.
Sudbury Cycling Club does not conduct cycling activities other than those communicated to Sudbury Cycling Club members by email from the club president.