Special thanks to Frank Battaion for assembling, maintaining, and providing the information on this page
---
As some may know, the Sudbury Cycling Club has a very long and rich history, lead for decades by Coach Battista Muredda. The club was founded in 1974 when Sudbury was awarded to host the Ontario Summer Games by Carlo Valduga, Gianfranco Ronchin, Battista, Tarcisio Biondi and Lino Fantasia. They simply asked kids in the neighbourhood if they were interested in participating. That year, SCC riders won every race, and in fact they also won the next two years. Racing was not a popular sport in Ontario at the time but there was a small organized circuit. Led by Battisa, with much support from parents, the SCC was both a feared and well-respected club winning numerous races across the province.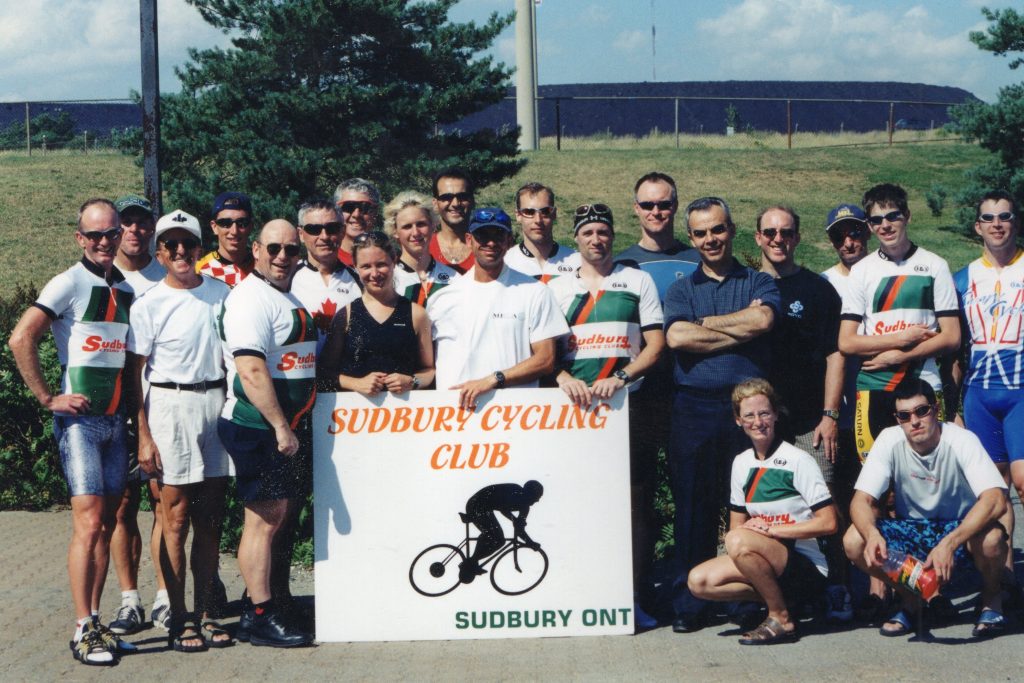 Battista instilled a strong team concept when it came to racing to ensure hardware was always brought home. Most of the club riders at that time were from Italian families who predominantly lived in the South/West end of the city and rode CCM "Tour de Canada" race bikes outfitted with the Campagnolo Record group. Some the parents, including Battista also trained and raced.
The club trained in the streets of Gatchell, Robinson, Sandra Boulevard, Laurentian University circuit, Conistone and Copper Cliff. During one particular training day in Gatchell, a station-wagon came screaming by the group, only to cut in front of the group and toss a case of empty beer bottles right in front of the pack – resulting in a huge and messy crash. This did not deter the club, nor other events.
At the height of the club, they received much local corporate support and owned two "SCC" painted vans, travelling to many races in the USA and Canada. They continued their winning ways racing against the likes of Steve Bauer, Jocelyn Lovell, Gord Singleton, Eon Dornellas, and Davis Phinney. In the mid 80s, the club also fund raised via Bingos at "Roller Country" rink. The club purchased a moped in 1978 and then later a Yamaha scooter, so Battista could provide "hands on" coaching. A Vespa was then later purchased with a large donation from a former SCC racer. Battista could often be seen in town and in the outskirts encouraging his riders and his success as a coach did not go unnoticed as he was asked to coach at the provincial and national levels. The club once also housed a touring group, a mountain bike division and a Can-Bike instructor but meeting everyone's needs proved to be challenging, so the club reverted back to exclusively road riding. The club has had some very fruitful years [in 2004 having 90+ riders] but lean years as well, with one year only having about 10 riders and run by 2-3 people. In fact, at some training sessions Frank Battaion recalls closing off the track only for himself or one other rider, being determined not to "relinquish" the track to the public.
The Club organized and held many important races. The most popular being the Caruso Club Festival race. This event was a major undertaking, needing political support, resources & volunteers. This race was held for the first time in 1974 and continued on a yearly basis until 1992. The 1992 field was very large & the race was won by SCC's own Eric Wohlberg, with Gord Fraser supporting him. It was a 3 day stage race that included a team from Italy and was the last race to ever draw a huge race field and crowds. The race was then held again in 1999 (2 day Ontario Criterium Championships).
In 1991 Battista Muredda, Shannon Wohlberg-Boland and others, supported Bill Narasenk in his Trans-Canada Cycling Record [13 Days 9 Hrs. 6 Min. 10 Sec] – a record which was broken only a few years ago. Bill has presented a slide-show of this record to the community on various occasions.
As liability issues in the sport increased the club led at the time by Frank Battaion became incorporated and developed it's first risk management plan which came with many challenges and barriers. Many riders and supporters have come and gone but Mr. Battista Muredda and Dr. Eli Girolametto (resigning in 2005) are the only two distinguished members to have served the club since it's inception (1974) and have been formally acknowledged for their efforts. Other folks like Rino Parissito, Roy Hums, Ulf and Sandra Kleppe, Frank Battaion and Derek D'Angelo have also given numerous years to the club in various capacities.
Delki Dozzi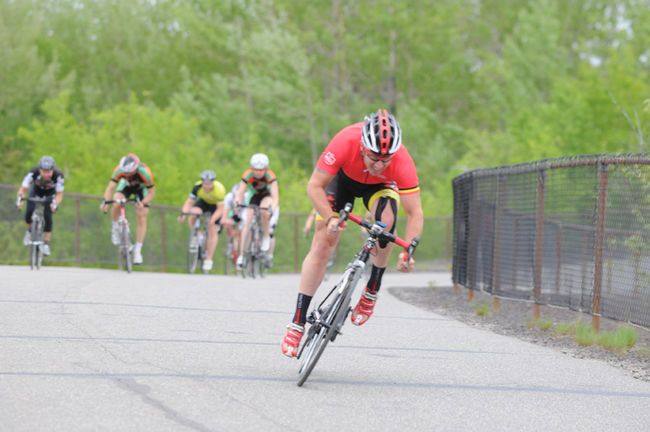 Delki Dozzi has an interesting history and was originally set to be constructed at a very large multi-sport complex that was on the grounds of the present Day Taxation Centre. However, there was also City initiative to build more sports facilities in different parts of the city and as result, the track would be built in Gatchell at the Delki Dozzi Playground (Mr. Dozzi was an Alderman at the time). It was constructed in 1980/81. Battista closely monitored the construction and tells a story about asking the builders to tear up and rebuild the "2nd corner at the top" a few times, as the camber was "off" and dangerous. The track was recently repaved in 2021/2022.
List of Past Presidents
Yvonne Jones (1992)
Frank Battaion (1993-1998)
Chris Mark (1999)
Frank Battaion (2000-2002)
Chris Pritchard (2003-2005)
Lise Ann Gauld (2006)
Guy Zito (2007 – 2012)
Trevor Rickwood (2013 – 2019)
Sheila Grech (2019 – 2022)
Hussein Wehbe (2023 – Present)
Lifetime Member Awards
Battista Murreda; Eli Girolametto; Frank Battaion; Eric Wolhberg; David Spears